Anritsu MT1040A 400G Tester
The Network Master Pro MT1040A is a portable tester for 400G Ethernet networks utilized in hyper and Colocation data centers. However, 400G Ethernet Core and Metro networks are evolving to meet the demands of mobile edge and cloud computing deployments as 5G and IoT applications become more widespread. The MT1040A eases the burden of 400G Ethernet testing for all these applications.
Description
The portable B5-size Network Master Pro MT1040A for 400G has customized expandability with easy operation. Installing the OTDR measurement module supports optical fiber continuity tests.
Features
Telecom world's smallest dual-port capable portable 400G tester supporting speeds from 10M to 400G with direct QSFP-DD and OSFP module installation
Flexible: Adding OTDR module option supports field tests or 400G dual-port laboratory test applications
Powerful: Displays 400G FEC-corrected symbol errors as histogram; single-button operation from setting parameters to displaying results helps improve on-site test efficiency
Small: MT1040A Measurement Interface
With a large, 9-inch touch-panel screen in a small, portable case, the MT1040A is ideal for on-site measurements. Direct plug-in of an Optical module, Direct Attached or Active Optic Cable in the measurement interface supports speeds from 10M to 400G. In addition, both QFSP-DD and OSFP modules can be selected as the 400G Ethernet interface.
| Interface | Ethernet | OTN | CPRI/OBSAI | SDH/SONET | FC |
| --- | --- | --- | --- | --- | --- |
| QSFP-DD*1 | 400GbE | - | - | - | - |
| OSFP*1 | 400GbE | | | | |
| QSFP28 | 100GbE | OTU4 | - | - | - |
| QSFP+ | 40GbE | OTU3x | - | - | - |
| SFP28/SFP+/SFP | 25GbE/10GbE/GbE | OTU2x/OTU1x | CPRI 1/2/3/4/5/6/7/8/9/10 OBSAI 1x/2x/4x/8x | STM1 to 64 OC-3 to 192 | 1 to 16G FC |
| RJ45 | 10/100/1000M | - | - | - | - |
*1 Select interface
Flexible: All-in-one tester for On-site Measurements
As well as supporting these 400G modules, installing the OTDR module incorporating a rubidium oscillator in the MT1040A supports optical line maintenance tests, which eliminates the need to carry several different instruments on-site and lightens the engineer's work burden.
| External Appearance | Module Name |
| --- | --- |
| | 400G Multirate Module |
| | OTDR Module |
The MT1040A can be customized for various on-site applications by configuring different measurement modules in the main frame. The following remote measurements are supported using two MT1040A units.

Frame Loss and Frame Loss Rate Measurement Throughput Measurement Latency Measurement (in combination with GPS module) Packet Jitter Measurement
Both the OTDR module and a fiberscope can be installed.
Installing two 400G modules simultaneously enables two 400G client lines on one unit.
End-to-End BER Measurement Throughput Measurement Latency Measurement Packet Jitter Measurement FEC Evaluation LFS Evaluation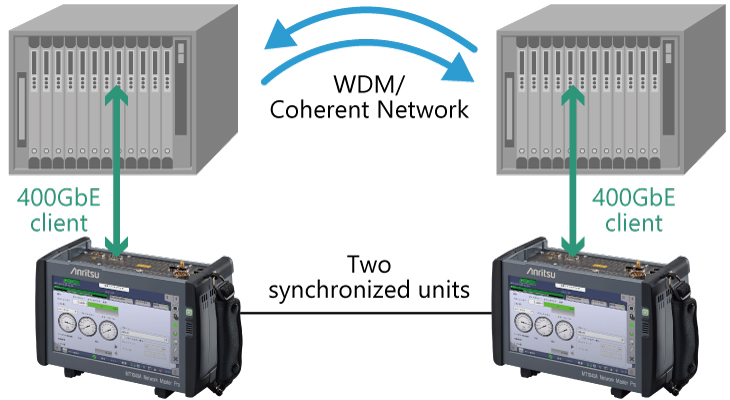 These features make the MT1040A ideal for tests in various measurement environments.
Resources
Enquiry
Enquire about this product